EXTRUDER MANUFACTURER

MAS
MAS is your innovative partner in the field of
Plastics upcycling and recycling
THE MOST INNOVATIVE TWIN-SCREW
TECHNOLOGY
Patented process technology
Large feed volume
Excellent homogenization
Highest energy efficiency
Sustainable production
Excellent homogenization
RECYCLING & COMPOUNDING IN ONE SINGLE STEP
Maximum flexibility
Customized production
Compounding without side feeders
Efficient removal of contaminants
Water-free, sustainable, efficient
Cleaning and drying in one step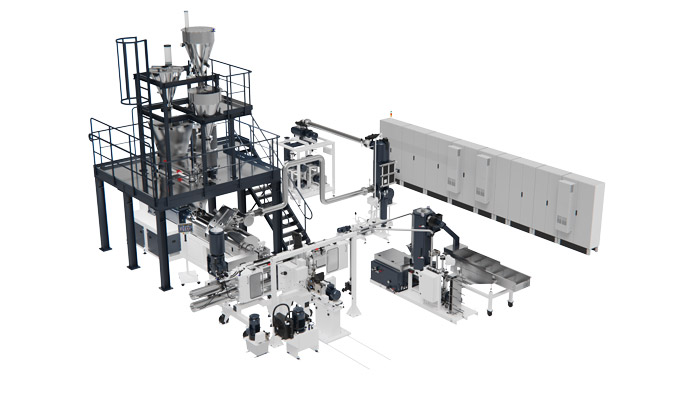 Its wealth of expertise in plastics upcycling and its innovative spirit enables the extruder manufacturer MAS to develop client-oriented, economical solutions. Perfecting the technology of extruder machines and many other high-grade lines creates new opportunities to achieve the best results when recycling and upcycling all kinds of plastic fractions.
From line planning to maintenance and repairs, we ensure groundbreaking, energy-efficient, and audited innovation for a resource-efficient global future.
We support clients and plastics recycling and upcycling specialists worldwide with our experience and desire to make a difference. More than 200 plastic extruders with twin screws and numerous other MAS machines are currently in use, and the numbers are only increasing . Our distribution partners ensure comprehensive service and support on the ground.
With our team of experts, we provide our clients with many attractive offers and services far beyond line installation. Tailor-made support, short downtimes, ongoing technical improvements, and easy component exchange promise considerably more added value for all MAS clients. Your extruder machine manufacturer always ensures innovations with state-of-the-art technology.
MAS twin-screw technology
The unique twin-screw extruder exemplifies the full innovativeness of the extruder manufacturer MAS. This plastics extruder, explicitly developed for recycling and upcycling purposes, guarantees fast and environmentally friendly processing of a wide range of plastics fractions, separates unwanted additives and inclusions from the primary material, and creates exceptionally high-quality, pure granulate. As such, considerably more primary material can be processed and entered into the recycling loop.
Easy operation
Flexible and adaptable
Fast and environmentally friendly processing
Energy-saving and resource-efficient
Strong degassing and cleaning performance
Low maintenance
Space saving and retrofittable
Fast and easy component exchange
TWIN COMPOUND - INNOVATIVE, EFFICIENT, AND FLEXIBLE
The MAS twin compound system offers an excellent solution for complex compounding tasks. This future-oriented technology ensures the optimization of your processes and increased revenue at all levels.
for complex compounding applications
The twin-compound process of your extruder manufacturer supports the production of highly filled granulates and granulates with "metered" fibrous or pulverized aggregates or other additives that are similarly difficult to feed in. If required, two MAS extruders operate in series production with melt filtration as an intermediary step.
The extruder manufacturer MAS is represented at select fairs. Visit us and become part of our MAS network.
Sustainable, cost-efficient, future-oriented.
Would you like to learn more about our extruder, upcycling, and recycling solution? Are you seeking an individual, tailor-made, yet innovative line that meets your requirements? The technical experts of the extrusion machine manufacturer MAS will offer you comprehensive advice. We're looking forward to your inquiry.
We are constantly looking for new employees and look forward to receiving your unsolicited application.
Find out about current jobs right now on our careers page!
08:00 – 15:30 MEZ
08:00 – 11:30 MEZ
08:00 – 17:00 MEZ
08:00 – 12:00 MEZ